In times of high stress, it can be easy to be carried from one chaotic moment or thought to the next. This seems to be especially true right now. For many of us, the news is on in the background constantly and we scroll through the headlines looking for the latest updates on what is happening in the world around us.
Creating a quiet space in the midst of all of this information overload can be a challenge but being mindful is vital to our well-being.
---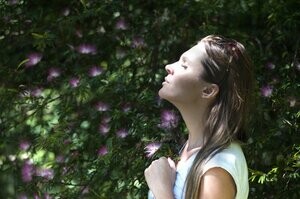 Sometimes we may not even realize that we have increased underlying anxiety or worry that can further impact our physical health- especially our digestive health.
Practicing mindfulness simply means "being present and self-aware" and meditation is a fantastic way to achieve that.
Meditation has so many benefits. Research shows that it can reduce anxiety, improve sleep, decrease blood pressure and even reduce pain.
I do absolutely realize that meditation can be intimidating. I used to have a really hard time sitting quietly with myself for more than a couple minutes when I started. There's a reason it's called a meditation "practice".
---
So I want to share a few resources here that have been helpful to me and my family.
Calm App
One of the first meditation apps that I tried. I really liked how I was able to relax when I used it. There are even meditations guided by LeBron James and Matthew McConaughey. What could be better than having Matthew McConaughey guide you through a meditation?
Headspace
Headspace is an app that really saved my family in a time of need. It is an online library of different meditations that are categorized by subject and need. I originally started it by trying their free 10-day 10-minute meditation series. It was incredibly helpful because it teaches the fundamentals of meditation. It's great for a beginner and family friendly. I mentioned that it helped my family immensely and here's how: through the years, my oldest daughter has had trouble sleeping. When we started using the Youth Restful Sleep Meditations at her bedtime, it dramatically improved her ability to fall asleep.
Waking Up App
This is the newest one I'm trying- it was created by neuroscientist Sam Harris. I'm just getting into it so if any of you have experience with it or have others to share, please let me know!
Now is the perfect time to add a healthy habit like meditation to your routine. A lot of us have more time on our hands so why not? Start small and remember that it takes practice to quiet the mind. Begin with 5 minutes each day and work your way up. Research shows that a regular meditation practice can improve, not just your mood, but the actual functioning of your brain and nervous system. Who doesn't need that?
Happy Healing!
Dr. Troy Willis"The Unfortunate Expert"